If you even occasionally read this blog, you know that we stick to WWE, NXT and ROH. Honestly, this is because neither Andrew nor I typically enjoy the TNA product enough to watch Impact. On Sunday, several friends and I attended TNA Slammiversary XII in Arlington, Texas, and to say that I was impressed would be a huge understatement. I walked in with few expectations; I hadn't even watched Impact in at least six weeks, and had simply read recaps online to catch myself up with the storylines. I was expecting some pretty good wrestling, but I was also expecting a healthy dose of your typical TNA tomfoolery. What I got was one of the best PPVs of the year, regardless of promotion. –Scott Strandberg
First off, if TNA wants to shake things up, booking more shows in Texas sounds like a pretty good start. The crowd was absolutely electric from beginning to end, and it was plainly obvious that the wrestlers both appreciated and rewarded the fans' zealousness by putting on fantastic performances across the board.
As for the way the show was booked, most importantly, almost every match had a clean finish, and the ones that didn't still made sense (take the ending of BroMans/Von Erichs for example, that is a classic Von Erichs/Freebirds finish). Furthermore, TNA finally seems to be realizing that they need to build their own stars, rather than rely on the nostalgia factor of the ex-WWE wrestlers on the roster, as Magnus, EC3 and Eric Young scored victories in matches with former WWE talent. Finally, there were no swerves, no turns, no title changes, very few promos, just three hours of awesome matches.
I've been watching loads of WCCW since the WWE Network debuted, so I'm sure you can imagine how hard I was marking out when Kevin Von Erich hit the iron claw. The crowd popped for that in a way I almost can't describe — quite simply, it was one of the loudest noises I've ever heard from a crowd, whether at a wrestling show, concert, sporting event, etc. I recall leaping out of my seat, jumping up and down while screaming at the top of my lungs, flailing my arms around like I was having some sort of religious experience. I am 29 years old. I do not normally act this way. Sure, I mark out plenty when I feel like it, but I don't remember ever being as loud and crazy for an entire show as I was at this event…probably because damn near everyone else there was being just as loud and crazy as I was, if not moreso. Seriously, this crowd was so unbelievably hot all night long.
Seeing Team 3D together again just felt so right. I did not see their Hall of Fame announcement coming, and I love the choice. After all, both Brother Devon and Bully Ray have spent more time in TNA throughout their careers than they did in WWE. The crowd popped huge for the announcement, and a "We want tables" chant rang throughout the arena for minutes on end, with neither Bully or Devon even able to get a word in. Devon looked especially touched by the reaction he received from the crowd.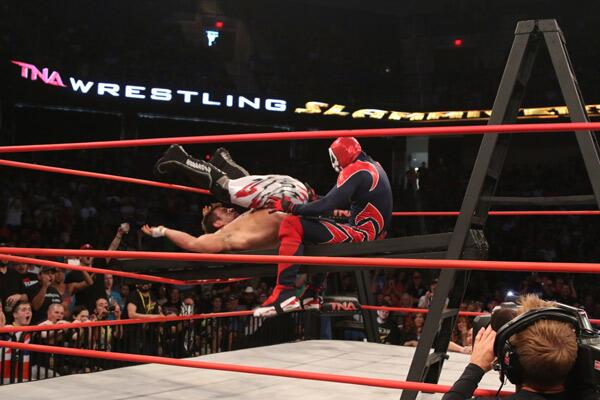 So many markout moments at this show: Manik's sunset flip powerbomb on Davey Richards off the top of a ladder onto another ladder, which had been draped between the second rope and a ladder rung, in the opening X-Division match was an unbelievably sick spot. Also, Crazzy Steve was way over with the Texas crowd, which was very entertaining in its own right. I did not expect to attend this event and participate in a long, sustained Crazzy Steve chant.
The highlight of the Willow vs Magnus bout was an awesome moonsault off the top rope by Willow onto Magnus and Bram on the entrance ramp. I could tell that the crowd mostly just wants Hardy to be Hardy again, as the "Hardy" chants were far more frequent and much louder than the "Willow" chants. I think this character has run its course. Case in point: I bought a Jeff Hardy t-shirt at the merch booth, and completely ignored the two Willow shirts. Still, this was a fun match, and Magnus going over clean was a good decision.
The Bully Ray vs Ethan Carter III Texas Death Match was an absolute blast. EC3 hitting a DDT on Bully onto the exposed boards under the ring was great, as was Bully hitting a Bully Cutter on EC3 onto broken glass, drawing "holy s***" and "this is awesome" chants. Bully just played so well to the live crowd in this match; he more than any other performer seemed to feed off the crowd's energy. The finish of this match saw interference from Rockstar Spud and Dixie Carter, but it didn't feel out of place or forced. It, well…it kind of felt like that's how it should have gone down. I was fine with it. I did feel cheated out of seeing Bully put his three adversaries through tables, but I'm not going to complain with what I got either. Okay, maybe I will just a little bit — why didn't Devon try to make the save for Bully Ray? Team 3D had just reunited at the Hall of Fame announcement previously in the show, and Devon gave Bully a pre-match pep talk.
Lashley and Samoa Joe worked a total brawl of a match, and worked it very well, with Lashley going over clean with a spear to reach the main event. Austin Aries' match with Kenny King was solid, but not great, mostly because King isn't really capable of having a great match. The finish was awesome, though, with Aries scoring the victory with a top-rope brainbuster. I was so pleased that MVP didn't interfere in these matches. I was so strongly expecting him to do so that it was a major relief when both matches had squeaky-clean finishes.
Several Dallas Cowboys players rushing the barricade to take out James Storm in his match with Mr. Anderson was an obvious attempt at getting TNA some mainstream media coverage, but that doesn't mean that the live crowd didn't eat it up. It was a fun, brief match and the crowd totally loved the finish.
The main event was fantastic. I loved the pinfall or submission-only stipulation; enough already with these stupid "escape the cage" matches. Cage matches are so much more compelling when simply exiting the cage is off the table as a strategy. Eric Young delivering a double Death Valley Driver to both Lashley and Aries simultaneously was unreal, Young hitting the Macho Elbow on Lashley from the top of the cage was a big highlight, as was Lashley inadvertently spearing himself through the locked cage door, leaving him incapacitated outside the ring, leading to the tremendous face-versus-face finale. Young reversing an Aries brainbuster attempt into a piledriver to finish the main event was very entertaining, although it was clear most of the crowd was hoping for an Aries win (count me amongst them).
All in all, this was a truly great PPV that was infinitely better than I had expected it to be. The group of four friends that went to the show with me included two knowledgeable fans, one guy who likes wrestling but doesn't really keep up with it regularly, and a guy whose only exposure to wrestling before this event was watching WrestleMania 29 and 30 at a friend's house. All five of us had a fantastic time, and that right there is an indication of a job well done by TNA. Let's just hope they build off the momentum of this wonderful PPV instead of letting it be a one-off success that leads fans to wonder what could have been a few months down the road.